Mon Jardin
Innovative, cutting-edge and functional
This application makes it possible to define the place (or property) where the work is to be carried out and delimits, via satellite mapping, the precise surface area of the land - which is a novelty in the landscape sector.
technologies used
Laravel

MySQL

Vue JS

Javascript
work done
Jonas Reymondin

UX/UI design
web application development

Quentin Meyer

web application development
surface selection tool
order management
online payment
The Mon Jardin application aims to enrich and modernise the landscaping sector's field of activity, while offering a useful and innovative service to the public.
In place of an appointment with a professional at home, the web app allows you to transmit the exact area of square metres on which to work.
Therefore, it is not an estimate or approximation, but rather a fair and precise calculation based on satellite mapping, designed to save a considerable amount of time and offer attractive prices for a task that many would otherwise do without. The application offers a new grass cutting and maintenance service that is in line with the existing demand from the company.

The application can be divided into four phases.
The first one corresponds to the reception. The user will find a space to log in, create an account or try the application as a visitor. The second phase involves satellite mapping and the creation of surfaces to be maintained. The order stage corresponds to the third phase and proposes the selection of options, dates and services or the summary of the order and payment. Finally, the last phase consists of the menu where the user can manage his properties, modify the surfaces, access the order history and make a new order.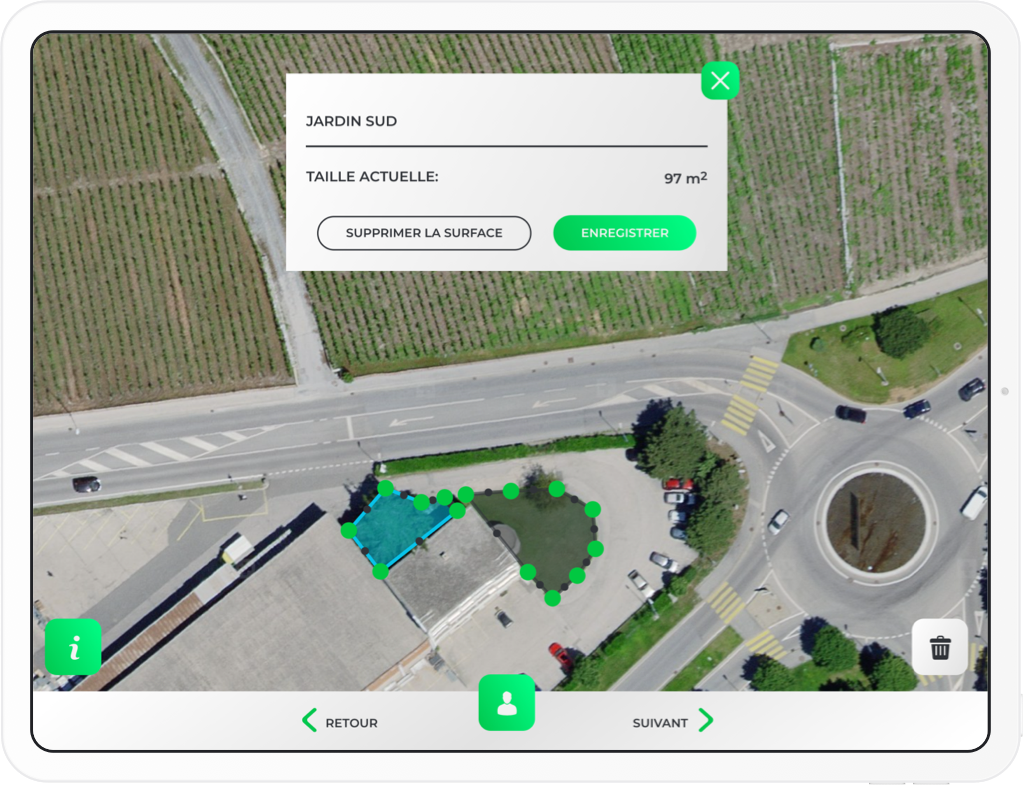 #303338

#f2f2f2

#00B75C

#00FF81
Innovative, cutting-edge and functional, this application makes it possible to define the place of realization and to delimit, via satellite cartography, the precise area of the land - which is a novelty in the landscaping sector.
Start date

April 19, 2019

Experience of Terretaz SA

89 years

Number of competitors

3